An Invitation to
the Karlsøy Festival


---

Edgar Broughton is ready for another Karlsøyfestival!
At the bands webside Edgar writes after last years concert: "This island is a magic place and I have never been any where like it." READ MORE:


---

From Arvidsjaur in Lappland hails folk rocker Johan Piribauer. He delivered a powerful concert on Karlsøya in 2006, and we've wanted him back ever since.
In the meantime he has done nearly 150 concerts in Scandinavia, North America, New Zealand, Australia, Germany, Austria, Iceland and even Antarctica. READ MORE:
---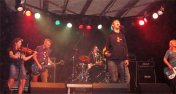 Stein Lillevolden said the following about Bøyen Beng «...They've always made Blitz sweat, dance, sing, swing, swoosh and swagger with battle lust and party vibes.»
They managed the same on Karlsøya in 2004 and we guarantee a great comeback! LES MER
---

Manna spilte på Karlsøya i 2005 og festivalgjengen har et spesielt forhold til dem. Det er Manna sin låt «Vi vil ikke ha mere krig» som surrer i bakgrunnen på Karlsøyfestivalens MySpace-side. LES MER
---
---
15.05.2009 English version still under construction
---
15.05.2009 The first 4 artists are official.
---
---